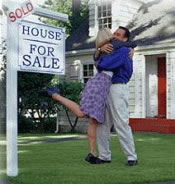 Home Buyer's Agency with Connie Shuping
I offer "Buyer's Agency", working with Home Buyers who choose me to represent them. Just as sellers sign a Listing Agreement when listing their home for sale, home Buyers sign a Buyer Agency Agreement to have a Buyer's Agent on retainer for dedicated service, availability and consultation. Most people's initial concern is "How much is having Connie's expert representation as a home Buyer going to cost me?" A house is worth what the house is worth and no more. If the Seller adds the Buyer Agent's commission to the price of a house, it becomes an overpriced listing that will not sell. Wise Sellers know it pays to compensate the Buyer's Agent for the desired results of selling their listing, and this is how I am most often compensated. On rare occasions at a sellers option, my fee is paid independently by you as the buyer, and you will always know in advance if you need to leave "room" for my fee when making your offer on a property.
Click here for our Home Buyers contact page.
Home Buyers Advocate
When you choose me to represent you in the home buying process, you are hiring a professional to locate the house most specific to your needs which will ultimately become your dream home. As your Agent, I will share with you all pertinent facts about the property, neighborhood and surrounding area as well as how long the house been on the market. I will perform a market analysis on your chosen property in order to discuss with you my estimate of the actual market value of the property so you do not pay too miuch nor loose your deram home because you expect more negoaotiation than is warranted. On your behalf I will negotiate the best price, terms and conditions in your Offer to Purchase and Contract. I know that saving you money while easing the stress of your purchase comes back to me in the form of your much appreciated referrals. I continually take education courses to refine my skills, and I am recognized as one of the top agents in the area. My Buyers get the best price and terms possible when purchasing a home, with minimum worry and stress because I do everything possible on your behalf. Not only is this service typically free to you, but I will actually save you money through strong negotiations and by guiding you through the inspection process to see that you are not left with unexpected repair bills.
Buying a Home
I have successfully represented many satisfied home buyers over the Triangle area, with a purchase-to-list price ratio greatly favoring the buyer over the area's average negotiation. My MBA education has given me excellent negotiation and other skills, and I use them to obtain homes for my clients at the lowest price and with the best terms possible.
When you choose me to represent you as your Real Estate Agent, you can count on my earnest commitment to help you choose the right home and obtain it for the best price possible. I will be with you throughout the entire process of buying your new home.
Click here for our Home Buyers contact page.